Fashion is back in a big way. After several months inside, the world of haute couture and ready-to-wear is ready to put bright colors, patterns, and exaggerated pieces into action. An accumulation of nostalgia, expression of vibrancy, body positivity, and a touch of glitter, this season is embracing the maximalist aesthetic. Essentially, more is more this fall. As we were all itching to go out and showcase our clothes last year, 2021 is about embracing the fun side of fashion and having a genuinely great time. Shake off the days of sweatpants and activewear and slip on a sparkling suit or cut-out dress. Whether you love the Y2K style, go wild for mini dresses or dabble in over-the-top silhouettes, here are the top fashion trends for AW21 that are so hot right now.
1. Dark Double Denim
Start the season right in a series of dark denim. This outfit ensemble combines the effortless chic styling of monochrome denim with a subtle laidback feel for a fun day out or an evening at the hottest bar. With retro stylings back in full force, try a '70s inspired jumpsuit – cinched in at the waist and ballooning from the knee, giving an elongated silhouette. Mix and match with cutouts, skin-tight silhouettes, and everything in between. This trend gives you a lot of room to play around with, so have some fun.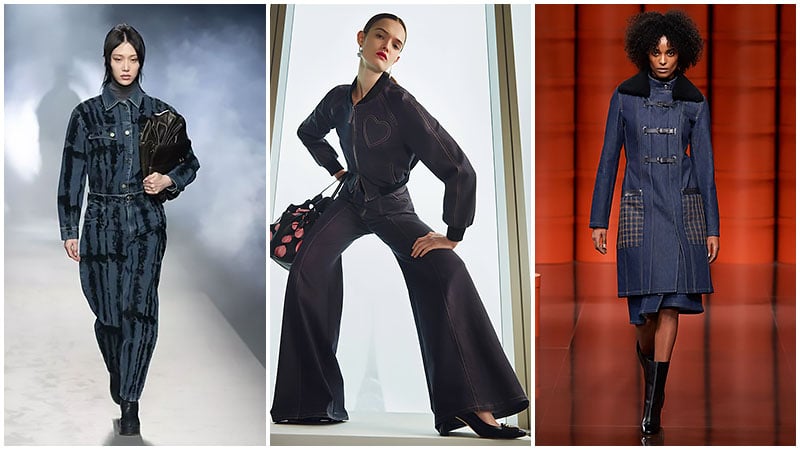 2. Capes and Ponchos
This iconic item is here to stay. Ponchos and capes are great items to layer for fluctuating temperatures. While they've been around for centuries, the outerwear has come and gone in fashion recently, but we're glad it's back. Its beauty lies in its versatility – wear it with a monochrome ensemble with knee boots in a brown tone. Thanks to its baggy shape, you can cinch in your waist with a belt, let it hang loose, and add a bold accessory, such as a wide-brimmed hat or statement handbag.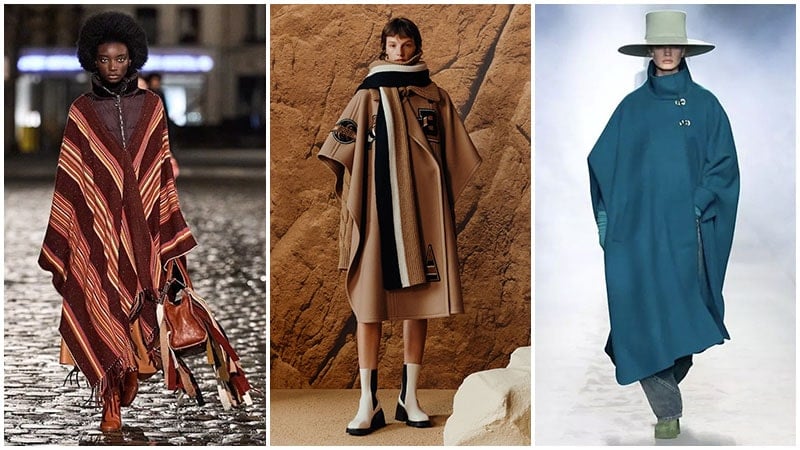 3. Mini Dresses
When Mary Quant first made the mini skirt mainstream in the 1960s, the trend was cemented. Over the years, love for the short hemlines has risen and fallen, with labels like Chanel, Versace, and Roberto Cavalli in the '90s and '00s. Now it's all about thigh-skimming dresses. Celebrating the drift towards maximalism this season, now is the perfect opportunity to go all out with this trend. Think bold colors, loud prints, skin-tight, or fit-and-flare – there's something for everyone. Add knee-high boots and an oversized blazer for a casual off-duty model feel, or slinky heeled sandals and a micro bag for a chic night out.